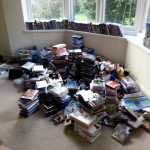 Posted on Friday 27th February, 2015
The one thing about moving house that surprised me is the sheer amount of stuff one accumulates over the years. However, most of this stuff normally has the common decency to secrete itself away in nook and crannies, unseen and unknown until it is required1. Philip K. Dick coined the...
Read full post | Show more posts
---
Posted on Friday 26th September, 2014
The mercs undertook all the little tasks they knew were required when embarking on a job, the little everyday things that might not be possible for a while. They cleaned themselves, prepared their equipment and relaxed. Doug utilised his innate talent for materialising alcohol from out of nowhere to produce...
Read full post | Show more posts
---
Posted on Saturday 29th November, 2014
Facebook did a little thing this week which caused me some concern, as it showed that the people behind Facebook either don't know or don't care about how they get in touch with their user base. Facebook (unfortunately) plays a significant role in my life. I was press-ganged by a...
Read full post | Show more posts
---
Latest Game Activity:
Gamercards provided by PSNProfiles.com and Playfire.com, follow Sean's gaming activity on his PSNProfiles page or on his Playfire profile. You can also read Sean's many video game related posts on the PAYNEful Blogsplosion.