Welcome to PAYNEful
Hello there! I've no idea how you got here, but why not check out some free comics, read a free science-fiction story, play a free text adventure game or perhaps watch a playthrough of the best Discworld game? Maybe you're just trying to check out this Sean Payne guy you've heard about and see his web design portfolio credentials.
Or you could just bugger off, I don't really care if I'm honest.
---
Latest Updates:
Show more updates
Subscribe to PAYNEful updates by following @RussianGestapo on Twitter
---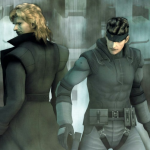 Posted on Sunday 17th August, 2014
Metal Gear Solid is a long-running action/adventure series which focuses on sneaking around and hiding rather than shooting lots of people. It is notorious for having a dense storyline, one which is mostly based on thrillers but has dashes of cyberpunk, science-fiction and fantasy (with some emphasis on fantasy given some of the fantastic supernatural elements of the series). The story is so long that it has spanned five separate games consoles and at least four console generations. Hold the phone, what's this all got to do with gears made of solid metal? The title is a little bit misleading, I admit. This game series comes from Japan, although I'm not sure whether that directly correlates with the odd structure of the title. The "Metal Gear" of the title refers to a series of giant mechanised robots, usually the prevalent threat in each instalment. Metal Gears come in all shapes...
---
Posted on Saturday 5th July, 2014
Harper was the first to approach Doug. She gave him a friendly pat on the back as she drew level with him, the merc straightening up having finished his plundering of Mad Dog's wallet and valuables. "Nice one, mate!" she complimented him as she passed, making her way over to the unconscious Mad Dog. She let out a sharp whistle as she inspected the damage and then proceeded to give him a swift kick between the ribs. Doug raised a brow at her. "I take it you weren't a fan?" guessed Doug. "Bastard threw me through a window," she gave Mad Dog another kick, "roughed up a lot of good people," another kick, "and was downright unpleasant at the best of times." She paused to consider whether or not the man at her feet had had enough before giving him one final boot to the rib. "So he deserved a...
---
Latest Game Activity:
Gamercards provided by
PSNProfiles.com
and
Playfire.com
, follow Sean's gaming activity on his
PSNProfiles page
or on his
Playfire profile
.
You can also
read Sean's many video game related posts on the PAYNEful Blogsplosion
.