Welcome to PAYNEful
Hello there! I've no idea how you got here, but why not check out some free comics, read a free science-fiction story, play a free text adventure game or perhaps watch a playthrough of the best Discworld game? Maybe you're just trying to check out this Sean Payne guy you've heard about and see his web design portfolio credentials.
Or you could just bugger off, I don't really care if I'm honest.
---
Latest Updates:
Show more updates
Subscribe to PAYNEful updates by following @RussianGestapo on Twitter
---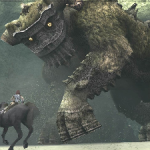 Posted on Sunday 7th December, 2014
Shadow of the Colossus is the video game representation of the classic fantasy archetype – a hero fights and slays a huge monstrous beast. No guns in this one, then? No, you're not playing as an assassin or a secret agent, you're just some have-a-go-hero out to save a damsel. In this case, saving the damsel means having to find, fight and defeat sixteen huge behemoths. It's David versus Goliath, except Goliath has brought all his mates along. I'll be honest, this game's probably in my top ten all-time greatest, if ever I made a list. What's it really about then? There's very little dialogue in this game, and what little dialogue gets spoken is actually in a nonsensical fictional language that's subtitled. It lets actions do the talking, but it's quite straightforward. A traveller on horseback goes a long distance to arrive at a huge tower via a long...
Show more posts
---
Posted on Friday 26th September, 2014
The mercs undertook all the little tasks they knew were required when embarking on a job, the little everyday things that might not be possible for a while. They cleaned themselves, prepared their equipment and relaxed. Doug utilised his innate talent for materialising alcohol from out of nowhere to produce a four-pack of beers; he availed himself of two and graciously gave his comrades one each. Around three o' clock, there was a knock on the door. It was one of the locals, a small man in robes, with a message for Blaise from Annie. They would all be at the monorail sometime that evening. Doug asked if 'the Scouse' would be joining them but the little man did not know, he only had the prepared message. The messenger lingered at the doorway, expecting a tip. Doug gave him half a tin of warm beer, which wasn't completely unappreciated. As...
Show more posts
---
Posted on Saturday 29th November, 2014
Facebook did a little thing this week which caused me some concern, as it showed that the people behind Facebook either don't know or don't care about how they get in touch with their user base. Facebook (unfortunately) plays a significant role in my life. I was press-ganged by a group of university friends to adopt the social networking site as a means of communication for university purposes as an alternative to email and, since then, I now use it as an invaluable tool to keep in contact with close friends and relatives (close or otherwise in the latter case). MSN Messenger used to be the big tool I used for talking to friends (and for me in some cases it gets dusted off and used via Skype) but there was a sudden big shift to Facebook as the service gained popularity. For me, I think one of the main...
Show more posts
---
Latest Game Activity:
Gamercards provided by
PSNProfiles.com
and
Playfire.com
, follow Sean's gaming activity on his
PSNProfiles page
or on his
Playfire profile
.
You can also
read Sean's many video game related posts on the PAYNEful Blogsplosion
.