Welcome to PAYNEful
Hello there! I've no idea how you got here, but why not check out some free comics, read a free science-fiction story, play a free text adventure game or perhaps watch a playthrough of the best Discworld game? Maybe you're just trying to check out this Sean Payne guy you've heard about and see his web design portfolio credentials.
Or you could just bugger off, I don't really care if I'm honest.
---
Latest Updates:
Show more updates
Subscribe to PAYNEful updates by following @RussianGestapo on Twitter
---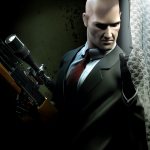 Posted on Saturday 8th February, 2014
So you don't really "get" video games? Perhaps it's a generational thing, or maybe you've never seen the appeal. That's fine, I'm here to lend a helping hand. I know that sounds patronising but I'm being honest, there's a lot of people out there who just hear about games whenever they break some sort of taboo or cause a controversy. I'm going to attempt to explain video games on their basest levels, and maybe give some insight into why people like this relatively new medium so much. So what's "Hitman", then? Unlike a lot of games, Hitman does what it says on the tin. You take on the role of a professional hired killer (or "hit man"), and you are given hits (or "contracts") to fulfil. These contracts can be carried out in any manner you see fit, but usually you're rewarded for keeping them "low-key"; the person paying you...
---
Posted on Monday 31st March, 2014
THE HITMAN'S TALE Once upon a time, a thousand moons into the future (or something like that), there was a small system of planets that had been warring for decades. The two sides were both equal in power and were locked in a stalemate. It appeared as though the two opposed sides would be trapped in an ongoing battle for the rest of eternity. The two sides were opposites in every way. On one side were the dark and corrupt beings that had crawled out from the depths of their swamp-infested homeworld. Their technology wasn't great but they possessed other means of power in the mysterious art of magic1. On the opposing side were the beings of light that were considered morally and technologically superior2 to their rivals, and yet they were just as trapped in the stalemate. Their war seemed to be taking them towards the direction of incredibly...
---
Latest Game Activity:
Gamercards provided by
PSNProfiles.com
and
Playfire.com
, follow Sean's gaming activity on his
PSNProfiles page
or on his
Playfire profile
.
You can also
read Sean's many video game related posts on the PAYNEful Blogsplosion
.