Welcome to PAYNEful
Hello there! I've no idea how you got here, but why not check out some free comics, read a free science-fiction story, play a free text adventure game or perhaps watch a playthrough of the best Discworld game? Maybe you're just trying to check out this Sean Payne guy you've heard about and see his web design portfolio credentials.
Or you could just bugger off, I don't really care if I'm honest.
---
Latest Updates:
Show more updates
Subscribe to PAYNEful updates by following @RussianGestapo on Twitter
---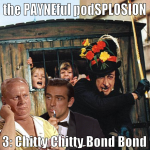 Posted on Monday 14th July, 2014
The third time's the charm! This week's theme is "Ian Fleming", and we somehow manage to deviate heavily, driving drunkenly in a meandering fashion across an entire range of James Bond-based topics. The topics can be boiled down to the following: Murdered: Soul Suspect (video game) Sherlock Holmes vs. Jack the Ripper (video game) Goldfinger – the novel vs. the film Chitty Chitty Bang Bang (film) The awesome train wreck that is the original Casino Royale Why Sean can no longer watch the end of Tomorrow Never Dies without cringing The Bechdel test Sam describes two chick flicks – Coyote Ugly and She's All That Charlie's Angels (film) The podcast is available to download, via the native html5 player below or on YouTube (this week's obligatory Minecraft video features Sam going into the Nether and then on a boat trip). Related links for things mentioned in the podcast: Creepy Dr....
---
Posted on Saturday 5th July, 2014
Harper was the first to approach Doug. She gave him a friendly pat on the back as she drew level with him, the merc straightening up having finished his plundering of Mad Dog's wallet and valuables. "Nice one, mate!" she complimented him as she passed, making her way over to the unconscious Mad Dog. She let out a sharp whistle as she inspected the damage and then proceeded to give him a swift kick between the ribs. Doug raised a brow at her. "I take it you weren't a fan?" guessed Doug. "Bastard threw me through a window," she gave Mad Dog another kick, "roughed up a lot of good people," another kick, "and was downright unpleasant at the best of times." She paused to consider whether or not the man at her feet had had enough before giving him one final boot to the rib. "So he deserved a...
---
Latest Game Activity:
Gamercards provided by
PSNProfiles.com
and
Playfire.com
, follow Sean's gaming activity on his
PSNProfiles page
or on his
Playfire profile
.
You can also
read Sean's many video game related posts on the PAYNEful Blogsplosion
.