Welcome to PAYNEful
Hello there! I've no idea how you got here, but why not check out some free comics, read a free science-fiction story, play a free text adventure game or perhaps watch a playthrough of the best Discworld game? Maybe you're just trying to check out this Sean Payne guy you've heard about and see his web design portfolio credentials.
Or you could just bugger off, I don't really care if I'm honest.
---
Latest Updates:
Show more updates
Subscribe to PAYNEful updates by following @RussianGestapo on Twitter
---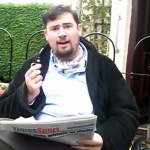 Posted on Sunday 31st August, 2014
I'll be honest, I'm not the most charitable of people. As a person who's been bullied by "chuggers" (charity muggers1) into signing up to a £10 a month scheme at least twice, I'm always a little sceptical about parting from my cash. It's very easy to be swayed by all the discussion as to where the money really goes, the ethics about who it should really go to and a whole bunch of other arguments that single charity out as being a bad thing. However, I'll say that as charity bandwagons go, the ALS Ice Bucket Challenge has been a surprisingly clever way of getting people to donate. I can only wonder what other charity memes will present themselves in years to come off of the back of this one. Either way, it got me to make a fool of myself and willingly part with a small amount of cash...
---
Posted on Saturday 5th July, 2014
Harper was the first to approach Doug. She gave him a friendly pat on the back as she drew level with him, the merc straightening up having finished his plundering of Mad Dog's wallet and valuables. "Nice one, mate!" she complimented him as she passed, making her way over to the unconscious Mad Dog. She let out a sharp whistle as she inspected the damage and then proceeded to give him a swift kick between the ribs. Doug raised a brow at her. "I take it you weren't a fan?" guessed Doug. "Bastard threw me through a window," she gave Mad Dog another kick, "roughed up a lot of good people," another kick, "and was downright unpleasant at the best of times." She paused to consider whether or not the man at her feet had had enough before giving him one final boot to the rib. "So he deserved a...
---
Latest Game Activity:
Gamercards provided by
PSNProfiles.com
and
Playfire.com
, follow Sean's gaming activity on his
PSNProfiles page
or on his
Playfire profile
.
You can also
read Sean's many video game related posts on the PAYNEful Blogsplosion
.