Round 5 (vs. Mister December), Part 9 - Where the Story Really Ends
Sean: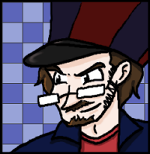 The best villains create plans so intricate and elaborate that it turns out that everything has been considered, even when it appears to be going wrong for the villains. It's only when they reveal the plan that you see how despicable the bad guys have been, pulling strings like puppet masters. TVTropes calls this a "Xanatos Gambit".
"I can't believe they had everything planned out like that though. At the end of the day, the doctors really are evil." -- Hikarino, our first IDD opponent.
In all honesty I threw everything I had at this script, because we didn't expect to beat Ashley. If it wasn't for real life causing her to not be able to finish her entry and us winning by default, I reckon this would've been a failure at the last hurdle for the Docs. I really do mean that!
Of course, there was now the small problem that the Docs had won. Villains aren't supposed to win...
---
Sam: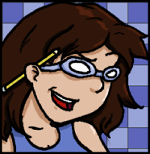 A4 pages: 64
Pencils sacrificed: 13
Cameos: 30
Hours of time spent on this entry: 72 (at a guess, probably...as in probably more)
So it turns out that Mister is a Jerkass Woobie after all, because no one likes a temper tantrum.
I've just noticed one of Ralph's reasons for hating Mister was "pink eyes". I guess Ralph is generally sickened by pastel colours?
---